Brandon Cooper
Chief Executive Officer
​Brandon has over 15 years of experience in Information Technology, graphic design, and over 6 years of chat support. Speciality in machine learning, and blockchain technology. Cooper has been featured on Steve, NBC, MTV, FOX, and more.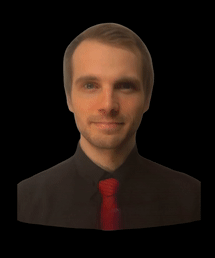 Sean Ross
Chief Technology Officer
​Sean has experience in 8 different programming languages. He is an experienced programmer, writing both desktop and web applications full stack. Over 5 years of technical and chat support experience.
Alexandra Stone
Chief Growth Officer
With 3 years of b2b and b2c growth marketing experience, Alexandra knows how to build and grow brands utilizing digital and social channels. Her experience working in IT and IaaS/SaaS has allowed her to understand the ever-transforming landscape of technology and its impact on both businesses and consumers.
Shri Ramani
Chief Financial Officer
Graduated from Michigan State University (MS'08, BA'06). Previously worked at a New York based sports analytics startup Krossover which was acquired.
Chris Carter
Chief Operating Officer
Degree in Architecture at Georgia Tech. He has 12+ yrs experience in project management and design.
Traci Nordberg
Chief Human Resources Officer
Human Resources leader with 20 years experience. Enthusiastically builds HR structures for small to large companies and "makes work work" for people's individual passions. Background in healthcare and education settings, specializing in talent and culture.
Lucie Colomb
Chief Strategy Officer
Lucie is a vision-driven change agent with a career-long record of marketing, consulting, investor relations, and operations management success for leading organizations.
Devansh Khatri
Strategic Development Executive
Devansh has 6+ years experience in B2B and B2C finance, with planning and strategies to increase the reach of products and services. 6+ years of FinTech experience in the cryptocurrency and blockchain space where he synthesized and developed solutions + new methods to realize opportunities in the identified growth areas. Acquired a Bachelors of Science in Economics from San Jose State University while being a founding member of a high growth CPG startup.
Gale Henderson
Public Relations Manager
From organizational communication to computer programming, Henderson eloquently executes engagements through which clients and consumers experience a brand. Specializing in strategic communications, media relations, event planning, branding and content development for both traditional and social media, Henderson has served a myriad of organizations ranging from large global brands to small start-up companies—all penetrating various industries.
Jim Hutchison
Vice President of Sales
Jim worked 8 years as a top producer in the mortgage and finance industry and the last two years in software sales helping develop a sales team.
Argishti has 7 years of experience in visual communications and 2 years of experience in UX/UI design. He earned a Bachelor of Arts degree in Art from California State University Northridge.
Marcus Banks
Sales Manager
Marcus is the sales manager at Aphid. He brings 4 years of experience to the sales department. Marcus hold a MFA in Creative Writing and BA in Communications. He was a key asset at his current company in helping generate $1 Billion in pipeline opportunities.
Terry Teng
Project Management Officer
Terry worked as a PM/Operations in some of the largest tech companies in the world including Google, Facebook, and Adobe.
Timothy Sullivan
Data Analyst
Timothy has 4+ years of experience across Finance & Analytics functions analyzing complex datasets, formalizing actionable insights & driving strategy.
Nannaphat Sudchawa
Web Developer
Aaron Taylor
Systems Administrator
Nannaphat is a front-end web developer who has experience with programming languages and libraries such as HTML, Javascript, CSS, SASS, Bootstrap, jQuery, and DOM.
Aaron is an experienced Linux server admin, with a mixed background in e-commerce development, SEO, and marketing automation. Proficient in cloud and blockchain infrastructure technologies.
Christopher Demos
Senior Mobile Developer
Christopher has a Bachelor's Degree in Electrical Engineering from the University of San Diego. While in school, he worked as a lab assistant in Digital Design and Embedded Systems Design. In cooperation with Clarity Design Inc, he designed the software for a portable non-invasive tonometer. After college he worked as an Electrical Engineer for Cubic Global Defense for three years, designing software to control and test RF hardware.
Chirag Mittal
Web Developer
Graduated from California State University Los Angeles (MS'20). Front-end , Back-end , Database and DevOps.
Monette Stephens launches products and companies globally providing marketing, strategy, audits and diligence for ICO/ITO's, M&A, Private Placement. She enjoys providing positioning, market analysis and sizing, growth strategies, product marketing, product launch, event content and coordination, funding and transaction preparation, customer acquisition and partnership development.